This page serves to give an idea of the different paper sizes available to We Print It customers.
In general, brochures & flyers are printed on flyer sizes under A4, though they can often be folded from A3 down to A4 and then further 'crash folded' to DL for mailing.
Anything larger than A4 is usually reserved for posters.
Custom sizes are also available. For custom size brochures or booklets please send a request through our custom quote request section.
The maximum available size for large run brochures is A1 (840 x 594mm). Short run wide format posters can be printed at A0 size (1188 x 840mm)
Further Artwork/sizing information can be found at the bottom of this page or on the artwork specifications page.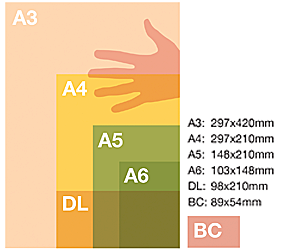 Artwork Sizes
We require document page sizes to be as listed:
| | | |
| --- | --- | --- |
| | Finished Size | Size with 2mm bleed |
| BC | 89mm x 54mm | 93mm x 58mm |
| DL | 98mm x 210mm | 102mm x214mm |
| A6 | 103mm x 148mm | 107mm x 152mm |
| A5 | 148mm x 210mm | 152mm x 214mm |
| A4 | 210mm x 297mm | 214mm x 301mm |
| A3 | 297mm x 420mm | 301mm x 424mm |
| A2 | 420mm x 594mm | 424mm x 598mm |
| A1 | 594mm x 840mm | 598mm x 844mm |
| | | |
| --- | --- | --- |
| | Finished Size | Size with 2mm bleed |
| DL Envelope | 220mm x 110mm | Bleed Not Applicable |
| DL+ Envelope | 235mm x 120mm | Bleed Not Applicable |
| C5 Envelope | 229mm x 162mm | Bleed Not Applicable |
| C4 Envelope | 324mm x 229mm | Bleed Not Applicable |
| | | |
| --- | --- | --- |
| | Finished Size | Size with 2mm bleed |
| Maxi Magnet (1) | 148mm x 99.5mm | 152mm x 103.5mm |
| Maxi Magnet (2) | 78.5mm x 168mm | 82.5mm x 172mm |